Calendar
Shows

May 9, 2013

19 Broadway

17 Broadway Blvd
Fairfax, CA
9 PM


SPECIAL NEW ALBUM PREVIEW SHOW


On May 17, 2013 we will be entering the studio to begin work on our Magna Carta follow up to "Road Less Traveled".

Come join us for a free night of music at 19 Broadway in Fairfax, where we preview songs we've been working on, the only time they will be played before we start tracking!

It's just us, we'll be playing all night - and when we're through playing new songs, we'll play "Road Less Traveled" songs too, including deeper cuts, along with some Rush covers from our "Fred Barchetta" set.

We really hope to see everyone there, and we'd love for you to tell us what you think of the new material!


June 8, 2013

Vinnie's Bar and Grill

2045 Mt. Diablo Street
Concord, CA
9 PM

We take a break from recording for a show at our home in the East Bay, Vinnie's. Details to be announced soon!


August 1, 2013

Milano Nightclub

394 South 2nd Street
San Jose, CA
8 PM


OPENING FOR GARY HOEY

We're excited to welcome our good friend and guitarist extraordinate Gary Hoey back to the North Bay, after far too long away! It's our first show at a new venue, the Milano Nightclub, and the show is hosted by the South Bay's premiere promoter, Mike Beard.

Also on the bill are fellow guitar rockers Lonero and Michael Cosyn, and an opening solo set by Eric Beard.

Not only is it an honor to play with Gary, but we're also hoping for an excellent turnout to help Mike get this new venue rolling and keep rock music alive in the South Bay.

Discount advance tickets available only at our store!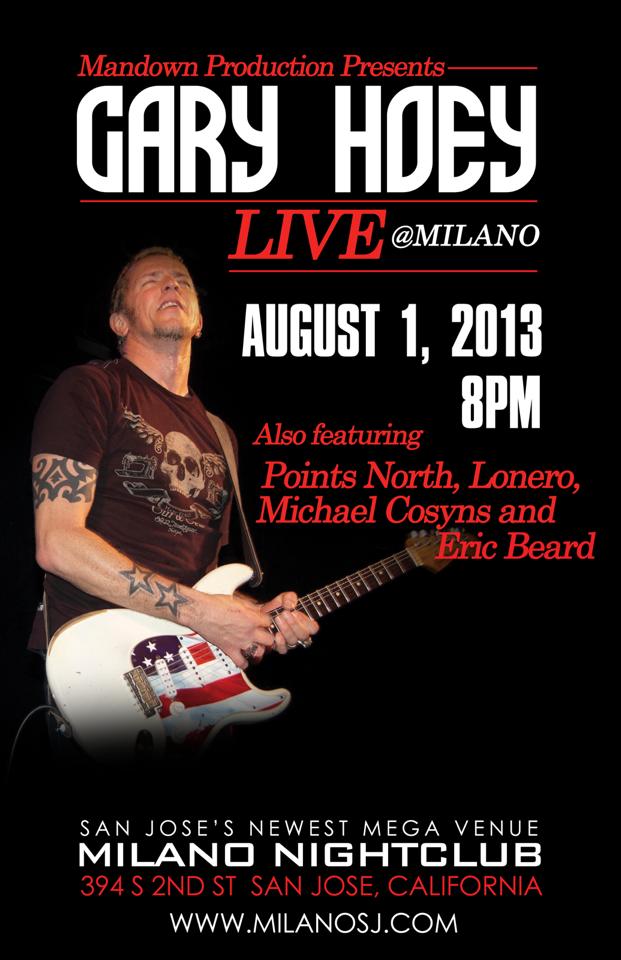 August 3, 2013

Brick by Brick

1130 Buenos Avenue
San Diego, CA
7 PM


FRED BARCHETTA (a tribute to RUSH by POINTS NORTH) with
DEEPER PURPLE


We'll be bringing the "Fred Barchetta" experience to San Diego for the first time, headlining our favorite San Diego venue, Brick by Brick. Also on the bill - the mighty "Deeper Purple", playing the best of Deep Purple and Rainbow.


Discount advance tickets available only at our store!