Calendar
Shows
We're busy working on a new record, but we are still playing select shows in 2018...
April 14, 2018

Hopmonk Sebastopol
230 Petaluma Ave,
Sebastopol, California 95472
8 PM
The second of two local headline shows - there haven't been enough of them lately! - as we prepare to go into the studio to record our third album. We'll be mixing in new songs to the set, to start working up a new full length set in anticipation of supporting the new record.
And we've never played the awesome Hopmonk in Sebastopol - in fact, we've never played Sebastopol - so we very much are looking forward to seeing our North Bay/Santa Rosa friends, and making some new ones.
Advance tickets are available directly from the Hopmonk by clicking
here
.


Facebook Event Page:


https://www.facebook.com/events/179053679366256/




April 20, 2018

Luther Burbank Center for the Arts
50 Mark West Springs Road
Santa Rosa, CA 95403
7:30 PM
We are so incredibly honored to be a part of the event (where we will not just be performing, but also the "house band"):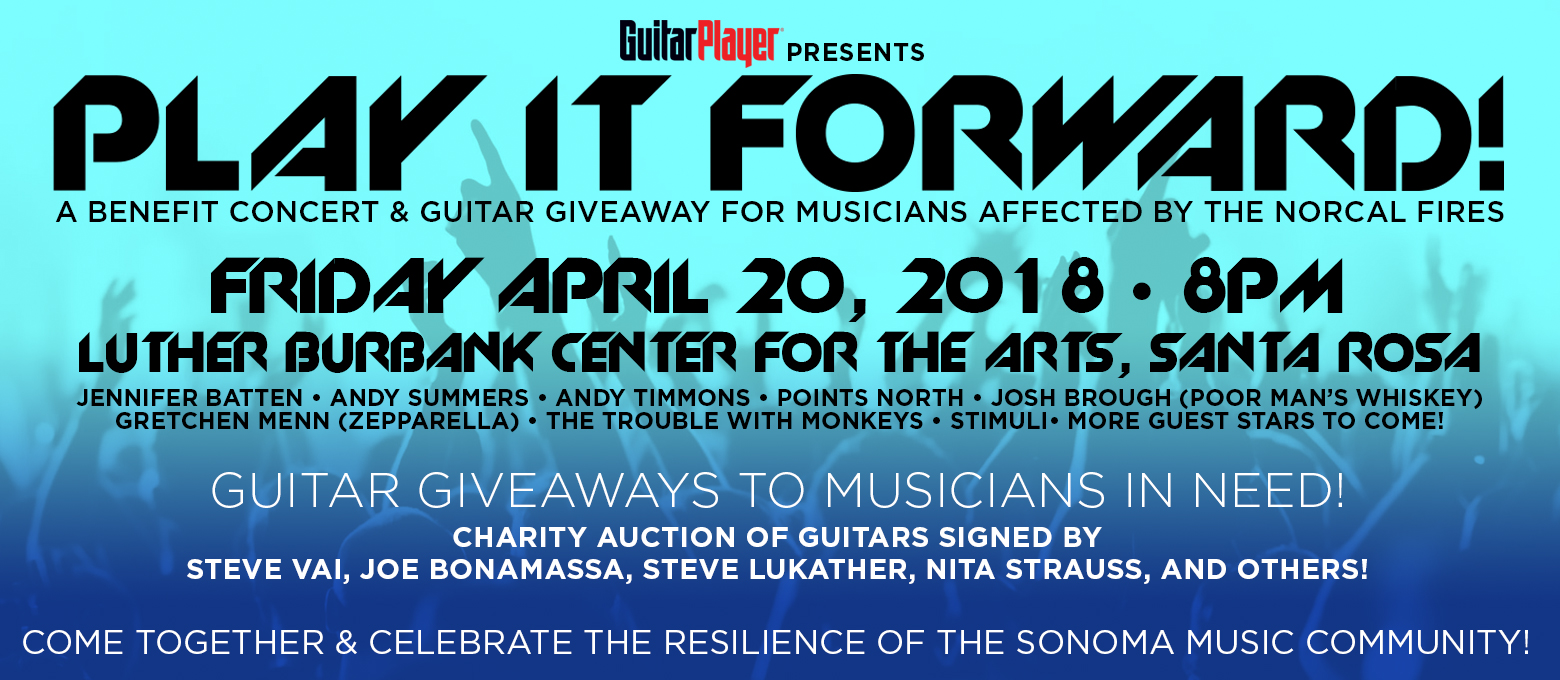 The Benefit Concert Lineup:
And more artists to be announced!
Guitar Player magazine—in partnership with the Luther Burbank Center for the Arts—celebrates the resilience and grit of the Sonoma County creative community with a thrilling benefit concert, a unique instrument giveaway, and an auction of guitars signed by renowned guitarists.
All profits will be donated to the Creative Sonoma Recovery Fund and the Luther Burbank Center for the Arts.
Free Guitars!
Guitar Player, along with some fantastic guitar manufacturers, will provide free replacement guitars to Northern California guitarists who lost instruments in the fires. Players will need to tell their stories, confirm their residency, and register to be considered for an instrument. Details at www.guitarplayer.com. Search for "NorCal Guitar Giveaway."
Signed Guitar Auction!
Many famous guitarists who support the benefit, but unfortunately could not attend to play for you, have offered to sign guitars for us to auction for our charities. These include Steve Vai, Steve Lukather (Toto), and Nita Strauss (Alice Cooper), and with more to come!